Download Our Case Study: Lowering Costs and Quality Manufacturing
Learn more about the potential cost savings of working with a quality manufacturer.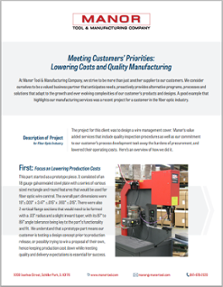 Manor Tool & Manufacturing Company works closely with each of our customers to provide exceptional service and quality.
In this case study, you will learn how Manor used the following three steps to address our customer's priorities in the Fiber Optic Industry:
Focus on lowering production costs
Create a forward thinking manufacturing process
Provide customer with value added services
Fill out the form to the right to download the case study and learn more about the results of our efforts with this customer.