Made In The USA: How Top OEMs Are Winning By Leaving China
The Real Truth About Offshoring and What It Means
For Your Operations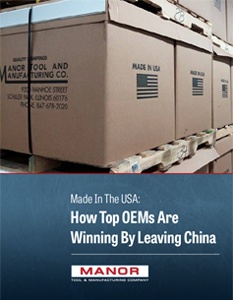 Our latest eBook explains why American manufacturing is experiencing major changes as metal stamping jobs shift from China back to the US.
Learn the driving factors behind this momentous change, ranging from energy costs to rising wages.
Could local industry be your choice for your next custom stamping project? To find out, access our new eBook, Made In the USA: How Top OEMs Are Winning By Leaving China, by filling out the form on the right side. See what the manufacturing industry has in store.